Featured
ibtm world has announced it has scheduled the highest number of matched appointments in the last four years, with over 51,000 matched appointments set...
DON'T MISS
Ministers of Tourism from major economies at the recent (T20) Ministers' Meeting) in Paris have called on decision-makers to consider tourism within their...
MICE LIFESTYLE NEWS
ibtm world has announced it has scheduled the highest number of matched appointments in the last four years, with over 51,000 matched appointments set...
ibtm world today announced the full programme of speakers at its 30th anniversary edition. Over 40 renowned meetings industry speakers are lined up to...
EVENT TECH AND GADGETS
The Spa and beauty area of Bristol Hotel Opatija adds anti-aging oxygen treatments to its programme. The Bristol Hotel Opatija is the only hotel...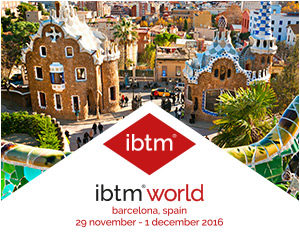 IBTM World (Formerly EIBTM) is the place to grow your business in the meetings, events, conference, incentives and business travel industry. Through highly-targeted introductions, IBTM World brings you face-to-face with the right people in the right organisations, to build relations, develop your business and expand your knowledge. Enter a world of business opportunities.
LATEST REVIEWS
Further Support To Singapore Business Events Sector To increase the number of business events visitors and their spending, The Singapore Tourism Board (STB) has...
MEETINGS PERFORMANCE
Melbourne has been named Australia's leading meetings and conference destination at the World Travel Awards, proving when it comes to infrastructure, intellectual capital and...
Reed Travel Exhibitions (RTE) has big plans for the second annual Americas Incentive, Business Travel & Meetings Exhibition (AIBTM). AIBTM...
Following budget cuts of 14% by the Swedish government funding for the tourism organisation Visit Sweden,  the agency has chosen to cut its MICE...
SOUTH AFRICAN TOURISM's Speed Marketing Sessions, are fast, highly effective sessions to introduce an array of South African tourism products to hosted buyers from...
AIR TRAVEL
CORRECTION !! According to a news report from the Australian News Service ABC, (from July 17th), about 100 of the 298 people killed on...
Star Alliance, has recently re-launched new MICE products under the name of "Conventions Plus" and are focused on delegates and organisers of meetings and...
The Airports Company of South Africa's Mr Deon Cloete, General Manager of Cape Town International Airport, spoke to MICExchange at INDABA 2014, where he...
American Airlines and US Airways apparently closer to a clearing of the way to merge, creating the world's largest airline.  A trial pitting the...
Virgin Australia CEO John Borghetti has been transforming Virgin Australia and says he has a complete strategy that works over the long term.  Borghetti...
HOLIDAY RECIPES
As a specialised app developer for medical and scientific events, Conference Compass has created a customisable app solution that addresses the specific challenges and needs of national and international associations. With the Society App, associations can now move from a single event app and beyond a multi-event app by connecting events, journals & year-round activities on one mobile platform.