ibtm world has announced it has scheduled the highest number of matched appointments in the last four years, with over 51,000 matched appointments set...
EIBTM (www.eibtm.com), the leading global event for the meeting and events industry, has announced that applications are now open for the annual EIBTM Technology...
ibtm world has announced it has scheduled the highest number of matched appointments in the last four years, with over 51,000 matched appointments set...
ibtm world today announced the full programme of speakers at its 30th anniversary edition. Over 40 renowned meetings industry speakers are lined up to...
International Productions driving content as Platinum Sponsor for PCOA Conference International Productions has been announced as the Platinum Sponsor of the 10th Annual Professional Conference...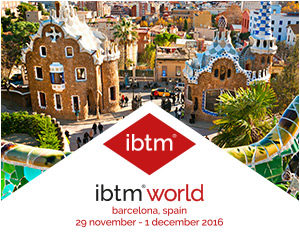 IBTM World (Formerly EIBTM) is the place to grow your business in the meetings, events, conference, incentives and business travel industry. Through highly-targeted introductions, IBTM World brings you face-to-face with the right people in the right organisations, to build relations, develop your business and expand your knowledge. Enter a world of business opportunities.
September 27 was World Tourism Day and the European Parliament marked the occasion with a call for a "European quality tourism...
The Thailand Convention and Exhibition Bureau (TCEB) presented an ambitious US$30 million 3-year plan, targeting corporate Incentive travel.  It aims to bring 3 million...
GIBTM, the leading Incentive, Business Travel and Meetings Exhibition in the Middle East, has recently announced the full outline for their 2014 GIBTM Knowledge...
The Dubai International Convention and Exhibition Centre (DICEC) is firmly established as the largest and most sought after events venue in the Middle...
Women are taking a growing role at the key leadership within business and the Travel, Meetings and Event Business is no different. During IMEX...
ICC Sydney taking culinary performance to the next level. Partnering authentic culinary experience with delegate diversity. Tony Panetta the Executive Chef uses a test...
CORRECTION !! According to a news report from the Australian News Service ABC, (from July 17th), about 100 of the 298 people killed on...
Star Alliance, has recently re-launched new MICE products under the name of "Conventions Plus" and are focused on delegates and organisers of meetings and...
The Airports Company of South Africa's Mr Deon Cloete, General Manager of Cape Town International Airport, spoke to MICExchange at INDABA 2014, where he...
American Airlines and US Airways apparently closer to a clearing of the way to merge, creating the world's largest airline.  A trial pitting the...
Virgin Australia CEO John Borghetti has been transforming Virgin Australia and says he has a complete strategy that works over the long term.  Borghetti...
WINiT is pleased to announce the... 2016 Annual Summit! Friday, November 11th:  1:30pm to 4:00pm - Educational Sessions WINiT Leadership & Speaker Rehearsals Saturday, November 12th: 8:30am to 5:00pm -...